My little man loves to play "spy on the adults". We have to pretend we don't see his fingers or toes sticking out from under the table or hear his immense giggling while he hides behind doors. He thinks he is stealthy and sneaky and it's adorable.
Luckily my Birthday Express friends know kids so very well and were already creating a
new spy collection
. The colors were perfect- vibrant, boyish, and playful. I decided to accent the silly masquerade side of the spy theme rather than the spy tools and weapons. The outcome was a super fun filled day of spy games, secret codes, costumes, and lots of laughter.
Party Theme:
Secret Agent 6th Birthday Party
Party Colors:
Black, Turquoise, Yellow, and Red
Party Highlights:
TNT with digital timer, magnifying glass spy banner, secret agent badges, and briefcase favor boxes.
Dessert Highlights:
Custom cotton candy bags, chocolate covered Oreos with spy theme fondant toppers, and cake pop bombs topped with birthday candles.
Planned Party Activities:
Finger scan check-in station
, t
rip wires, invisible ink test, pass the bomb game, and a lesson in peg pen secret code.
Upon arrival, guests were fingerprinted using a free app called Finger Scan. Luckily all guests had clean records and received their badges and clearance to enter the party.
The truth serum (a.k.a. lemonade) was a super huge hit. The kids bravely drank it and then asked each other all sorts of funny questions to test how well the serum worked.
Do and J of
Piggy Bank Parties
created the most
UNBELIEVABLE
banner I have ever, ever, ever seen!!! The panels were inspired by secret codes and circuit boards and could be put together like puzzle pieces. The magnifying glass had a transparent glass center and 3D fisheye letters that looked like they were being magnified. How they made this out of paper is beyond me. Again, they are AMAZING!!!!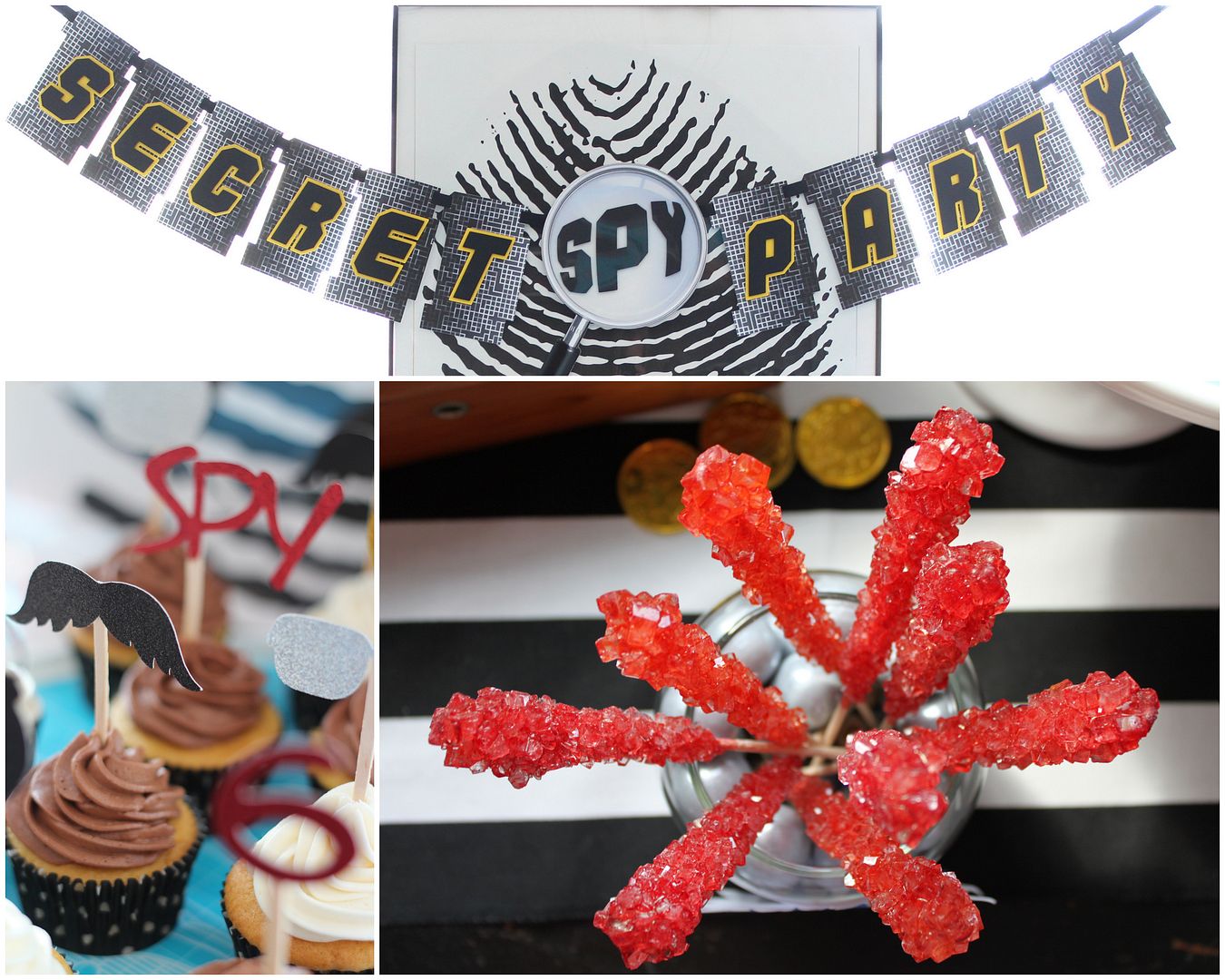 Eat More Dessert
. They were extremely moist and delicious (most importantly simple to make). Glitter cupcake toppers were from
Made By A Princess
, they really added a WOW factor to the dessert table!
Maria of
Love and Sugar Kisses
made chocolate covered Oreos with spy themed fondant toppers. Just to warn you, if you ever come to one of my parties, you must RUN to the dessert table get one of these Oreos... they go FAST!
My nephew is twinsies with the Oreo
Some kiddos went over...
Some went under...
and 99% had their tongues sticking out - such serious concentration!
This was an activity that I had planned to do but ran out of time so I did it with my buggers the next day. You can make your own invisible ink by mixing 1/4 cup baking soda and water. Write secret messages using Q-Tips. When the message is dry and invisible, dab grape juice over the paper to reveal your message!
This game was called pass the bomb. I made TNT using red tissue paper, 3 paint rollers, electrical tape, and a digital timer. I set the timer and the kids passed the TNT. Whoever was holding the TNT when the timer went off was out. This game got very competitive!
This was another activity I had planned on doing but ran out of time, I wanted to teach the kids Pig Pen Secret Code. It's super simple and something they could do on their own for fun at home.
I know always say this, but THIS is my favorite party theme to create! A HUGE thank you to my incredible vendors/friends for making this day so special:
Photography:
Allison Duda of A. Joy Photography
Spy Party Supplies:
Birthday Express
Printed Spy Graphics:
Creative Loft Team
Glitter Cupcake Toppers:
Made By A Princess
Chocolate Covered Oreos:
Love and Sugar Kisses
Custom Labeled Cotton Candy:
Soiree Event Design
Spy Banner:
Piggy Bank Parties
Cake Pop Bombs
:
Samantha's Sweets
Spy T-Shirt:
Great Stitch
Cupcakes, TNT, styling, some photos
: me, Craft That Party